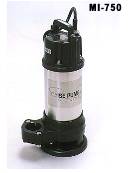 FEATURES:
It performs excellent efficiency by powerfull motor.
Made from stainless steel.Rustless and wide application of usage is possible.
Made from vortex type impeller.Hard to be clogged and works for sand etc.
The solid in half size of outlet is possible.
Impeller is sturdy than cast iron make.
Head & Casing made from engineering plastics are light in weight and assures longer life.
This pump weight 40% lighter than cast iron pump.
Cover is installed under the stand.
Designed to prevent the invasion of sludge.
SUITABLE FOR:
The supply and drainage of sea water.
For circulation of fish feeding device.
The drainage of dirty water,sewage and muddy water.
The draniage of rather light chemical liquid.
For civil engineering and sand.
NOTE)

Other electric sources are available upon requests.
Strainer can be installed at option.
●DIRECT FLOAT MI-250F,400F,750F.
PERFORMANCE CURVES:50/60Hz